---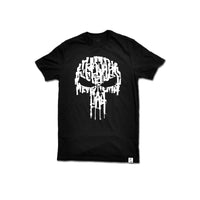 Punisher Skull Made of Guns T Shirt
This sweet Punisher Skull Made of Guns T Shirt was inspired by the tv shows opening credits where all the guns form the skull. We always thought it was badass so we wanted to recreate it for ourselves. Now we have made this design print publicly available in either a t-shirt or a hoodie for you to rock as well!
Our apparel has minimal shrinkage after the first wash and gives you a great classic fit. Proudly sourced and created in WA State.
5.9 oz 50/50 Cotton Polyester Jet Black T-Shirt in Adult Unisex sizes with Long-Lasting Vinyl Transfer Print.
Evergreen Kings® and its items listed are not affiliated with or endorsed by any celebrities or public figures, are not associated with any existing intellectual property or trademark, and no infringement is intended and no endorsement is implied. All designs posted are believed to be posted within Evergreen Kings™rights according to the U.S. Copyright Fair Use Act. All rights reserved. EvergreenKings.com is the ONLY authorized seller of Evergreen Kings® brand items. These items and designs are produced EXCLUSIVELY for sale by Evergreen Kings.
Customer Reviews
Ask mike Payne
I all ready told Mike. Wow, great, and so on.Thanks again.