---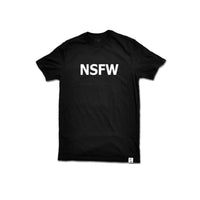 NSFW Not Safe For Work Shirt

If you love wearing cheeky t-shirts and are looking for a way to get that look in a plain t-shirt that's also comfortable and easy to wear, then look no further. This 50/50 blend, plain black t-shirt has a bold, simple, and memorable design that is sure to get noticed or not noticed at all. The bold font is a playful way to get your point across.
Wear it to work and be that super awesome funny guy in the office or shit hole who is always wearing those funny t-shirts. A durable and long-lasting vinyl print keeps your t-shirt looking sharp for years to come. Does anybody even read this shit? lol

This NSFW Not Safe For Work Shirt T Shirt has minimal shrinkage and is a great classic fit. Printed in the USA.
5.9 oz 50/50 Cotton Polyester Jet Black T-Shirt in Adult Unisex sizes with Long-Lasting Vinyl Transfer Print.