---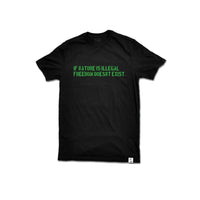 If Nature is Illegal, Freedom Doesn't Exist Weed Supporter T Shirt
A classic slogan for the legalization movement. It's a plant. It was here before us. Like many other things. Who are we as a species, to control the laws of nature and what people decide to do with their own lives?
Minimal shrinkage and a great classic fit. Printed in the USA. Hem tag is not present on the actual shirt.
5.9 oz 50/50 Cotton Polyester Jet Black T-Shirt in Adult Unisex sizes with Long-Lasting print.
Evergreen Kings™ and its items listed are not affiliated with or endorsed by any celebrities or public figures, are not associated with any existing intellectual property or trademark, and no infringement is intended and no endorsement is implied. All designs posted are believed to be posted with Evergreen Kings™ rights according to the U.S. Copyright Fair Use Act. All rights reserved. Evergreen Kings™