---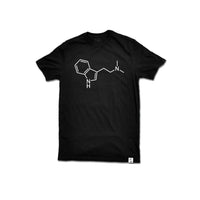 DMT Molecule T Shirt - Created by Evergreen Kings
N, N-Dimethyltryptamine (DMT or N, N-DMT) is a chemical substance that occurs in many plants and animals and which is both a derivative and a structural analog of tryptamine. Man, lol, this one was intense. Short-lived for the onset but the effects, the changes, lasted much longer for me. Administered about 15 minutes into Tool's Fear Inoculum concert (very first show in CA) and wow, what a life-changing experience. 
This DMT Molecule T Shirt has minimal shrinkage and a great classic fit. Not that wear once and make it a pajama shirt for your X girlfriend bullshit. Printed in the USA.
5.9 oz 50/50 Cotton Polyester Jet Black T-Shirt in Adult Unisex sizes with Long-Lasting Vinyl Transfer Print.